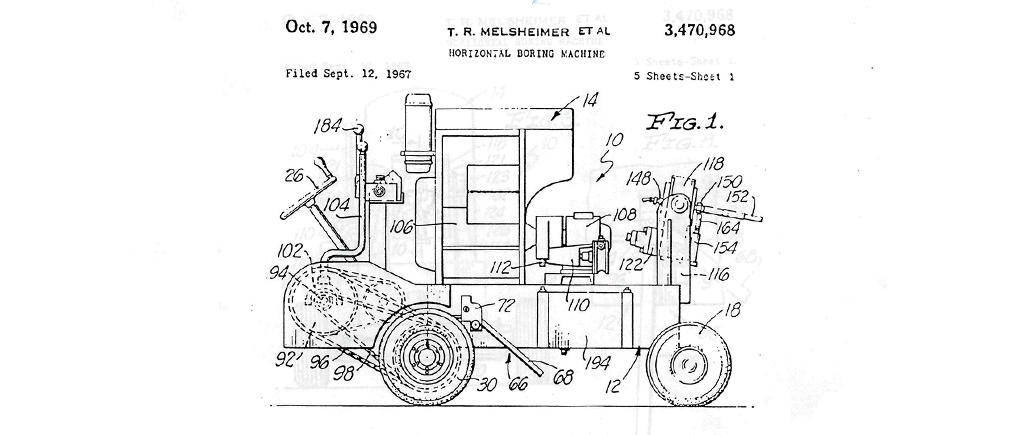 We've been in the HDD business since the beginning. Our founder (and for some of us, our grandfather), Fred Melsheimer introduced the first horizontal directional drilling system in 1946. His goal: to help drillers be more productive and efficient. Since Day 1, we have never stopped putting the needs of drillers above all else as we work hard to develop new equipment and HDD tooling solutions to solve today's drilling challenges. We've seen lots of changes in the industry, but we've learned some abiding lessons that keep us successful to this very day. Here are some of the most important things we've learned along the way.
Safety always comes first
Some of our most important innovations focus on improving the safety of underground boring. In the 1960s, Dick Melsheimer (Fred's son) developed insulated attachments and tools that seriously reduced the electrical hazards of slurry boring. Then, in the late 1990s, Dick led the development of the Zapalert electrical strike alarm, which became a standard feature on all horizontal directional drills worldwide.
True innovation comes from real-world problems
We're always on the lookout for ways to help improve HDD tooling. Our engineers and leadership team don't stay in the factory–we get out there to job sites and start asking questions. When we see a contractor installing an underground utility, we stop and ask the crew, engineers, and inspectors about their process and how well their equipment is performing. We're not trying to sell anything. We do it because we're passionate about getting utilities under the ground in the most non-evasive, productive and safest means possible. Drillers tell us what they need. It's our job to listen.
"Family" runs deeper than bloodline
Technically, Melfred Borzall is a family business, but we consider everyone who works here to be part of our extended family. Though we're serious about HDD tooling solutions, we believe in bringing a sense of fun and joy to the workplace so, like a family, we make sure not to take ourselves too seriously. We do lots of fun group activities, including our annual company picnic where we go head-to-head in games like the 3-legged race, horseshoes, and the balsa wood airplane building and flying competition (which the engineering team always seems to have in the bag…) Through thick and thin, we stand by our employees and are grateful for all that they bring to the table and for everything they do.
The trades have a place in the future
As budget cuts squeeze schools, we see that trades are some of the first classes to get cut. We think it's critical to train today's youth in the skilled trades to help them achieve a bright future, even without a traditional 4-year college degree. A team of our staff visits local area schools, towing a custom-built, bright red trailer that looks like a giant Lincoln Electric welding machine. The trailer opens up to form a 4-person welding station, which the kids love. During these demonstrations, our staff offer one-on-one attention to the kids, teaching them about the basic principles of welding, fitting them for safety gear, and then giving them the chance to work on their very own welding projects like custom nameplates, flower pots, and mini steel airplanes.
Waste not, want not
In an effort to increase our own efficiency, we've implemented lean production in our factory. By inspecting the eight areas of waste (defects, overproduction, waiting, non-utilized talent, transportation, inventory, motion, and extra processing) and adopting two critical lean principles, we have re-vamped everything from our assembly line to our inventory ordering system. These improvements enable us to maximize our output and keep costs down for drillers.
American manufacturing needs our support
We're proud that Melfred Borzall is a US manufacturer that successfully competes in the global market. 80% of our company's machine tools are made in the US. All of Melfred Borzall's steel bar stock, steel tubing, and plates are sourced from domestic steel mills. We have foregone opportunities to buy cheaper, foreign-produced materials because we believe that quality wins over price every time.
Environmental stewardship is everyone's responsibility
Not many people think of "environmental stewardship" in the same sentence as "equipment manufacturer," but we're proud to take a conscientious approach to our treatment of the environment. From our solar panel-covered roof to our energy-efficient lighting system to our small fleet of electric vehicles, we're a leader in green manufacturing in our industry. We don't do it to show off, we do it to help encourage others to do the same ­and thus create an even bigger impact and make more lasting change. It's been 72 years since we've opened our doors and not a day goes by that we don't discover something new about better, faster, more efficient ways to tackle HDD challenges. No matter what the future holds, one thing is for sure: we'll always be looking ahead, and we'll never stop learning.