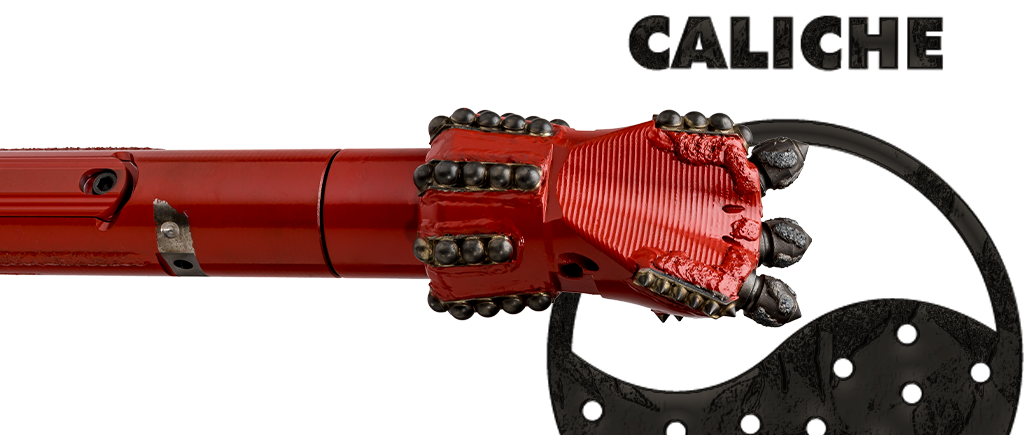 If you're drilling in the Southwest, you most likely know caliche. It's hard to deal with, dense, and really clingy since it often binds to gravel, silt, sand, and clay. Caliche kind of sounds like a terrible ex that won't go away. Luckily, we have a few solutions for drilling in caliche that will break that mess all up for good! First off though, let's start with the basics.  
What Is Caliche?
Caliche is also known as calcic soil, calcrete, hardpan, and duricrust. Besides being a pain to dig through, caliche is a layer of soil or sediment with particles that have been cemented together by mineral matter from its top layer. Caliche forms when minerals are transferred from the upper layer of soil or sediment to its next layer that's anywhere from 3 to 10 feet under the surface. The mineral matter that usually binds it all together is calcium carbonate, but it's also common to encounter caliche formed by minerals like iron oxide, magnesium carbonate, gypsum, silica or a mixture of all three.   Caliche deposits are often found in areas throughout Arizona, California, Nevada, New Mexico, and Texas, and they can take on a white, light pink, gray or reddish-brown appearance. Even though caliche has a reputation for being problematic, it has some redeeming qualities. It's often utilized in building construction, cement creation, and even sugar refining.  
Drilling In Caliche
When it comes to digging through caliche, ordinary drill rig parts won't do. You need HDD drill blades and drilling rig bits that will bust up caliche every single time. We know this first-hand. That's why we've engineered and created top-notch rock-drilling equipment with your professional needs in mind.   Here are a few HDD drill bits and blades that were designed to take on the toughest caliche around.  
The Red Diamond Blade
Melfred Borzall's Red Diamond HDD Drill Blades are best-suited for caliche. This drill blade features a single front-end domed carbide that was designed to handle blunt force and to extend the life of the blade. The diamond-shaped carbides along the front side of the drill will aggressively tear through hard ground conditions, and the low-profile diamond carbides near the back of the blade were strategically placed to help minimize drag. In this case, diamonds are a driller's best friend, especially when they deliver a mean look and a lethal bite.  
Steep Taper Ultrabit
Our Steep Taper Ultrabit was constructed to steer through tough caliche without locking up. Because it can slice through materials like cemented cobble, hard-packed soil and softer shales, it's probably one of our most versatile blades. The Ultrabit has a center point tooth for easy penetration, carbide cutter blocks that are positioned at an aggressive angle to slice through cobble, a low-profile, tapered design to minimize drag and chunky carbide along the entire length of the blade to help ensure maximum longevity. With the Steep Taper Ultrabit, you can drill through caliche or cobbles easily and efficiently.  
Eagle Claw SD Drilling Rig Bit
When it comes to tearing through caliche, you need something fierce, quick and precise. Our new and improved Eagle Claw SD drilling rig bit offers faster drilling, great steering and unmatched durability. This bit features a perfectly balanced cutting design for smooth and efficient operation. It also has cutter teeth with carbide hardfacing for maximum toughness, a conical-shaped steering face so it can quickly react to directional pushes and 100% coverage dome carbides for great wear resistance. The Eagle Claw SD is tenacious and designed to keep you drilling...and drilling...and drilling through the toughest caliche around.  
Melfred Borzall Has The Horizontal Directional Drilling Equipment You Need To Get The Job Done Right
For drilling in caliche or any other ground material, Melfred Borzall doesn't produce run-of-the-mill HDD tools. Our products were developed from first-hand knowledge and industry experience. We know what today's drillers need, and we're committed to delivering solutions to help you complete each task safely, smoothly and efficiently. If you have questions about our tools or need help finding the right ones based on your drilling needs, contact us today.