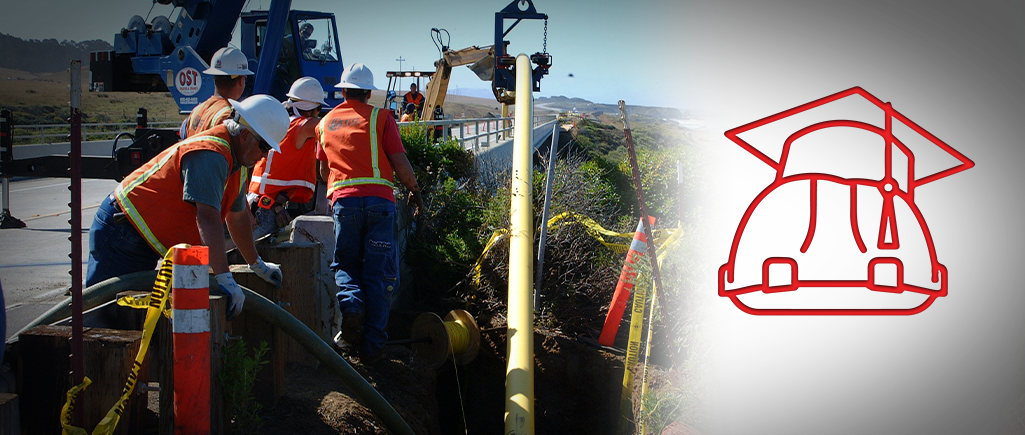 For trenchless contractors who are having a rough time finding workers, it might seem like there aren't enough good HDD operators out there right now. On the other hand, for people who are looking to get into the industry, it might feel like there aren't a lot of companies that are willing to invest in them. It's unfortunate on both ends because contractors are likely missing out on strong candidates who are willing to work hard and learn, while job seekers are missing out on opportunities to develop solid skill sets so they can lay foundations for bright futures in HDD. It's a lose-lose scenario. But there is one way to improve both sides in this equation – HDD training.
Horizontal Directional Drilling Training — Forging the Future
The HDD industry isn't going away anytime soon. In 2018, the global horizontal directional drilling market size was valued at $7.37 billion. The industry is anticipated to expand at a compound annual growth rate of 13.2% per year from 2019 to 2025. The growing demand for environmental preservation and minimal public inconvenience while completing infrastructure projects is predicted to boost the demand for HDD services, as well.
What does this mean for HDD professionals? It means contractors need to be ready to take on new business ventures, like locating specific natural resources and burying lines or pipes in the toughest terrain. Since technology is always changing, experienced operators must stay up-to-date with the latest equipment and procedures. That's where HDD training may be the deciding factor between success and failure. It can help contractors and workers develop industry-relevant knowledge and strengthen their skills so they're equipped to handle whatever comes their way on the job site. When the entire team is set up for success, a company can truly thrive.
Benefits of HDD Training Courses For Contractors and Operators
Good contractors recognize that regular HDD training offers a number of positives. As mentioned, the industry is always changing, and to keep up with its demands, contractors need to know about the latest advances, while operators have to know how to use them correctly and recognize hazardous situations when doing so. HDD training programs can help.
HDD training courses also make a company more attractive to job candidates since they will be able to gain a better grasp on the skills that are needed to work in the industry. If you've been around for a long time, you know that the knowledge and expertise necessary to make it on a job site can only be picked up through hands-on experience.
On-the-job training opportunities not only show that a company is committed to strengthening its employees' skills, but also that it truly values its workforce. When operators and other field personnel feel valued, they're much less likely to walk off the job site – and away from your company. We all know that turnover rates tend to be high (and costly) in this field, and drillers being unprepared is a big reason for that. HDD training can save you the time and money it takes to replace operators by lowering turnover rates across the board.
Another benefit for contractors is that regular horizontal directional drilling training provides ways for them to learn about new technology that can help their companies work smarter, safer and more efficiently. By seeing the latest equipment or drilling techniques in action, they get a better sense of what is out there and how it can improve the way their company does business. When companies use up-to-date equipment and standard operating procedures, it stands out to both prospective candidates and current employees. Again, it shows that an organization is forward-thinking and committed to the professional growth and safety of its workers.
Workers stand to gain a lot from the training options that are available today. What's even better for contractors is, if a company can't handle in-depth training sessions internally, there are a number of organizations that specialize in providing on-site or online simulator training. This makes the process easier all around because contractors can continue to focus on day-to-day operations while HDD training providers can focus on specific topics and comprehensive instruction.
HDD Training Program Topics
For those who want to start offering — or attending — regular training sessions, you can check with trade organizations to see what they offer. Organizations like the North American Society for Trenchless Technology (NASTT), companies like Associated Training Services or even certain equipment manufacturers offer in-depth courses on a number of subjects.
Topics often include:
HDD Safety
Equipment Maintenance
Drilling Fluids
HDD Operating Procedures
Tracking
Drill Pipe Varieties
New Installation Methods
Pipe Bursts
How Businesses Can Benefit From HDD Training
When a business works with a training provider, like NASTT for instance, workers will be immersed in high-quality learning experiences that cover targeted industry-relevant topics. To get a better understanding of the courses offered, some training companies might allow you to view sample agendas beforehand. If they're not posted online, it doesn't hurt to request one for the specific training program of interest or any additional information that is available.
With on-site HDD training courses, companies can benefit from having industry experts train their workers in familiar surroundings. This saves time because on-site training means that employees don't have to travel far, and it cuts costs because there aren't multiple flights to book or expense reports to cover when it's all over.
Some HDD training providers will offer companies the same instructors and course materials that they would for one-on-one or small group training at an economical price. On-site group training can even reduce the per-person cost by 25% or more. A number of training companies will even allow an organization to customize their courses, thereby cutting down on unnecessary expenses. Doing this also ensures that employees will learn techniques that line up with any organizational goals.
If on-site training isn't in the budget, many manufacturers offer free online training for their equipment or about specific HDD techniques. Many training providers also offer online versions of their face-to-face courses. Don't take simulator courses for granted either. These types of HDD education classes offer consistency and simplicity because they teach equipment fundamentals, yet they can be completed anytime and anywhere. So, whether a company chooses on-site or online options, employees stand to gain a great deal by participating in HDD training programs.
Why Workers Value HDD Training
Whether someone is new to the industry or they've been part of an HDD crew for years, they can always use tips and tricks that will help them strengthen a range of skills related to their role. HDD is a fast-paced industry, and with the tremendous growth that's expected over the next few years, those who can't keep up will likely be left behind.
When workers aren't properly trained, it can lead to a number of operational errors. Those operational errors can lead to exorbitant labor costs or missed project deadlines. They can even put workers' lives at risk. Not only that, but when workers are not properly trained to perform roles effectively, they can become frustrated — and so can those who work with them on a regular basis. The constant negativity may ultimately lead to burnout, and burnout leads to turnover. This can be avoided if contractors invest in training opportunities so workers of all levels can be successful – and the company can thrive (and save money) in the long run.
HDD training courses are a necessity. In an industry where it's sometimes hard to find qualified workers, it only makes sense to retain the ones you have by ensuring they are well-educated and fully capable of fulfilling their roles. Over time, workers will appreciate it. By receiving regular training, they'll know that their employer is committed to them – and committed to helping them drill towards successful careers in the industry.
Get Equipped For Success
Melfred Borzall's innovative horizontal directional drilling equipment is designed to keep contractors and drillers at the cutting edge of innovation. So, you can rest assured that the HDD training your company receives will be supplemented by industry-leading manufacturing. From adapters to bits and blades, reamers to locating systems, we have what contractors and operators need to get jobs done safely and efficiently.
If you have questions about any of our HDD tools and accessories, contact us today. We're always happy to help you find solutions that meet your drilling needs.