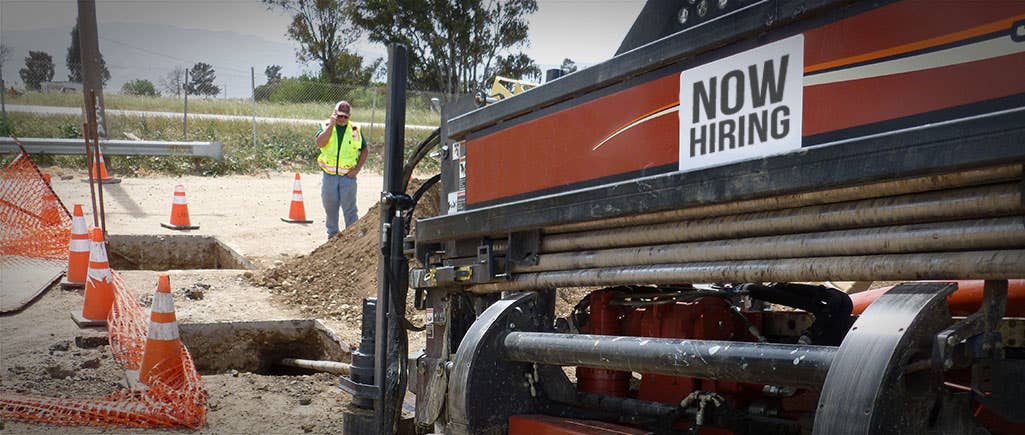 $1 trillion of New Infrastructure Work Opportunities
On Nov 15, 2021President Joe Biden signed a $1 trillion infrastructure deal into law Monday amidst a bipartisan, celebratory crowd on the White House lawn. The intended result of the plan's infusion of cash into projects focusing on  roads, bridges, ports and much more is that the American economy and people will have a better quality of life and more jobs.
The president hopes that his wider $1.85 trillion social spending package will gain momentum, since the plan focuses on renewable energy, public health and other social topics that have been highly debated in the middle of rising inflation and COVID-19's lasting effects. With a new influx of cash poured into the nation's infrastructure, S&P Global published a report expecting to add more than 880,000 jobs by 2030.
The question that is glaring at every HDD contractor that is already struggling to find labor to do the jobs they have...who will step in to fill the new wave of expected jobs? 
Three Contributing Factors to the Dilemma
1. Aging Workforce Retiring
According to a 2019 Article, construction industry companies are bracing for roughly 10% of their workforces to retire by the year 2022. Even if some younger workforce members are feeling pressure to resume their interrupted careers, that may not be so among older workers. The  U.S. Department of Labor states the average age of workers in the construction industry is 42.5, dramatically higher than other industries. Right now, it looks as though many of these older workers that took a mandatory or self-imposed isolation from their jobs may never come back. The HDD industry falls in line with the greater construction industry and the pain is felt even more acutely for contractors that rely on a core unit of workers that have been in place for years and no new recruits to replace them.
2. Specialized Skilled Labor in Deficit
Specialization has always been a challenge, but the effects are now being felt in subsets of construction, such as HDD, where skillset training is a requirement for many crew member positions such as mud specialist, rig operator, or locator specialist.
By 2020, the youngest members of the Baby Boomer generation entered the 55-and-up age group, which will be retiring soon. To make matters more difficult - during the recession, more than 2 million construction workers lost jobs within three years. Many younger workers lost their jobs and left to a separate industry, while older workers in higher positions were more likely to stay in the construction industry even when the economy was in a downturn. Both of these factors have considerably aged the industry's workforce and we see similar patterns in our HDD niche market.
3. Reluctance to Return to Work
The pandemic's "great resignation" as it has been termed, has given way to American's rethinking their income and career opportunities. According to the U.S. Bureau of Labor Statistics, a record-breaking 4.3 million people quit their jobs in August 2021, evidence that some people are also waiting for the right opportunity to come along before they return to the labor force. This is challenging for contractors that rely on the right mix of crew members with specialized skills for training. 
Two Solutions to the Dilemma
As an HDD company since the 1940's, Melfred Borzall has lived through wars, industrial revolutions, recessions and much more. In the 75 years of being an American Manufacturing company for Horizontal Directional Drilling contractors, there are measures the company has implemented to try and bridge this gap in the HDD workforce within the greater construction industry. These measures aren't anything groundbreaking (pun intended), because we have been practicing them for decades, but it is paying off. Here are 3 measure you can take as well to help reduce the impacts of an unsure economy: 
1. Keep youth in your crew
For as long as Dick Melsheimer, founding member of the HDD Industry, Melfred Borzall, has passed the baton of running the family business to his sons; he has been involved in educating and exposing the benefits of skilled labor positions with nearby local high schools and elementary schools. Job Fairs and trade shows were a weekly practice for Dick & members of the company prior to the pandemic and they are eager to get back to it to educate the rising generation on manufacturing  and construction job benefits. As a result, Melfred Borzall has a wide spectrum of demographic an age in Engineering, Machining, Welding, and other positions. The constant training is good for more experienced HDD experts and helps train a new generation.
As an HDD Contractor, there is great benefit to keeping a "greenie" or two on the crew. They are always asking questions that will make experienced crew members explain, teach and possibly evaluate the "why" behind their own best practices as locators, rig operators, mud specialists or other positions. Also, with a variation in the age range of your workers you are safeguarding yourself against knowledge loss, when a crew member leaves, since he has transferred his knowledge by way of training. Chances are the younge crew members have a separate set of skills that may even teach the experienced crew members some new tricks.
Always be training
Never stop learning...period. It doesn't matter if one of your crew members is 32 or 62, once he decides he is done learning...that crew member becomes a liability to innovation and problem solving. Training on our products is an endeavor that we have undertaken to support our distributors by training virtually and in person via webinars and on-site, hands-on training. This is because our tooling is highly specialized to meet very specific challenges of HDD drillers in the field and we want our team to know when to recommend certain solutions. Productivity of the HDD jobsite reigns supreme and we the company is incessantly on a quest to educate the team how to better meet that need.
HDD Contractors are under the same pressure to educate themselves about the newest cutting edge (yet another pun...intended.) HDD technology or innovation to keep their production rates flowing. If there is a member of the team sitting on stale practices he learned 5 years ago, it may be costing you more money in production loss, than it would take to train him again. Mud Schools, Manufacturer on-site training, and even training webinars are great ways to leverage an education to keep your team agile and sharp. There are also resources for those crew member completely new to the industry, such as Melfred Borzall's latest webinar, HDD 101: The Fundamentals of HDD Operations & Tooling.
Look to the future
Economic circumstances may not always be foreseeable or controllable, but with some foresight and proper training of the right crew members you will be able to safeguard your company against some of the pitfalls that trip up complacent contractors. If you implement these basic measures, you can possibly be in a better position to handle the work that your competitor isn't able to when the time comes as well as improve your production and working capacity in the present.
Melfred Borzall is an HDD Tooling Manufacturer that is a founding member of the HDD Industry. Our HDD Experts span the U.S. and distribution network partners cover the globe. To contact us for more details regarding training click here. To register for our latest webinar and train your team click here.