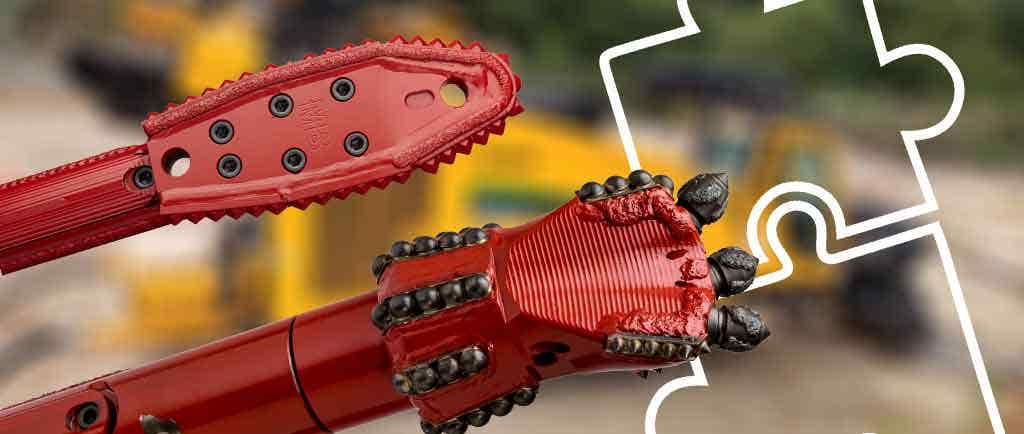 From the early days to today's modern tooling innovations and engineering, HDD has come a very long way. And Melfred Borzall has been there from day one. We've helped push the industry forward with tools that have made directional drilling more productive and profitable. Our drive, passion and total dedication to the professionals who depend on our solutions are just a few of the reasons why we are a leading provider of horizontal directional drilling tools.
When we say we're committed to the industry and the drillers who work hard around the clock to get every job done safely and accurately, we truly mean it. That's evident from the features on all of our products to the fact that we make HDD tools that are compatible with OEMs like American Augers®, Ditch Witch, Astec®/Toro®, TT Tech® and Vermeer®. We know that today's HDD professionals face a new set of challenges, and our aftermarket Vermeer products for Vermeer drills are designed to meet those challenges. As always, we have no problem sharing our knowledge, experience and innovations to help the industry stay on course.
Melfred Borzall and Vermeer: Drilling in the Same Direction
Melfred Borzall manufactures a wide variety of horizontal directional drilling tools that are compatible with Vermeer HDD drill rigs. It makes complete sense for us to make products for Vermeer drill rigs — after all, Melfred Borzall and the Vermeer Corporation have more than a few things in common. Like Melfred, the Vermeer Corporation started with the vision of one man back in 1948 — two years after Fred Melsheimer started Melfred Welding & Manufacturing where he designed and created tools for the first horizontal directional drilling system.
We Offer a Wide Variety of Tools for Vermeer Directional Drills
While Vermeer's entrance into the HDD industry was a little bit later on the timeline, the company's entrepreneurial and innovative spirit kept it moving along the same trajectory. And since we are committed to providing our customers with the right horizontal directional drilling tools for their needs, we have created HDD bits and blades, HDD reamers and more for Vermeer drill rigs.
Here's what you can find in our selection of aftermarket tools for Vermeer drill rigs.
Vermeer Blades and Bits
When you're taking on the toughest rock or soil, you need blades and bits that can tear through it all. We have the parts that Vermeer drill rigs need to destroy anything in their path. From our Red Diamond Blades that eliminate production-draining issues like blade drag, carbide wear and pullback efficiency to our Eagle Claw SD Bits that were designed to cut through the hardest conditions aggressively, we have the blades and bits you need to get jobs done with ease.
Reamers for Vermeer Drill Rigs
As we all know, reamers tend to be the workhorse of every HDD job. So, it's important to have the right one for the job. Melfred Borzall's selection of Vermeer-compatible reamers includes options that cut through shale, sandstone, caliche, hardpan, gravel, clay and cobbles. Whatever your next project involves, our HDD reamers for Vermeer rigs are up for the task.
Transmitter Housings
While we have the muscle to get the toughest HDD jobs done, we also what you need to protect the "brains" of the operation. Our transmitter housings don't just look good, but they're pretty much indestructible, too. Among our selection of HDD transmitter housings for Vermeer drill rigs, you'll find Thread-on FastReam® transmitter housings that are compatible with our FastBack®' System, Bolt-on Side-Load transmitter housings that are compatible with our exclusive Pit Bull™ design, Thread-on Side-load transmitter housings and much more.
Trust Melfred Borzall For High-Quality Tools That Are Compatible with Vermeer Drills
Vermeer makes solid drill rigs. Melfred Borall's HDD tools make them even better and more productive. From accessories like Vermeer drill rod wipers and HDD adapters to the toughest bits and aftermarket Vermeer blades around, we can connect you with the tooling that makes every job easier and more efficient. If you have any questions about our selection of products for Vermeer HDD machines or need help finding the right solution, contact Melfred Borzall today.