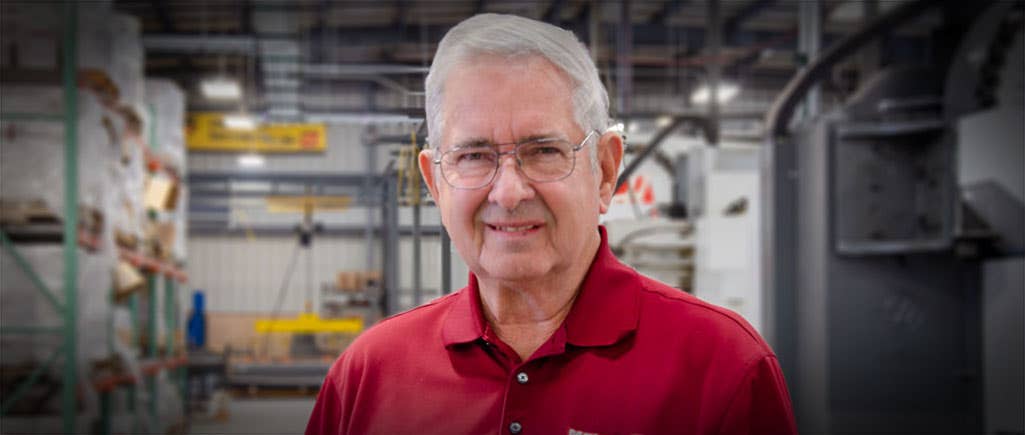 When someone talks about the HDD segment of the trenchless technology industry, it's impossible to not mention the name Dick Melsheimer. He's been innovating great ideas to advance trenchless technology since he started working for his father at Melfred Welding & Manufacturing many years ago. Today is Dick's 80th birthday and we'd like to share a little more about the man who set our company on our trajectory of success and who we consider to be a legend.
The O.G. of HDD
In the 1960s, Dick developed the concept, equipment and tools for the "cut-and-bore" method, using horizontal earth boring to facilitate the rapid installation of underground gas distribution and electrical lighting. This was the original horizontal directional drilling method, but instead of steering the bit remotely like today, it was "steered" from pothole to pothole. Early in his career, Dick developed and introduced a method of pulling utility product pipe or cable directly behind a backreamer for a quicker, less disruptive installation of utilities. For gas distribution installations, Dick developed a walk-behind, hydraulic powered boring machine: The DynaMole. The DynaMole could install 1200' of gas distribution pipe in a single day – a huge feat for the time. Dick also brought horizontal directional drilling to the "masses." He developed, demonstrated and educated utilities, municipalities and utility contractors about the workings of HDD, the benefits of this type of drilling and the huge opportunities it would bring to the industry.
Getting down & dirty
Dick's passion is being on the job site, working side-by-side with contractors to learn from them, discover their challenges and ideas, and ultimately create new HDD tools and processes to improve the installation of underground utilities. When he sees a contractor tearing up a road to install a utility, he stops to ask the crew, engineers and inspectors about their process and makes sure they are aware of the tremendous advantages of horizontal directional drilling. He's not trying to sell anything. He does it because he is passionate about getting utilities underground in the most non-evasive, productive and safest means possible. He does the same at our plant. Machine Shop Manager Jon Lindgren says, "Dick is a great role model for all of us to follow. He's never second-rate in anything he does. After all these years, he's still out here, working with the guys in the shop and coming up with ideas for new HDD tools."
Standing up for what's right
Dick has always looked out for drillers and isn't afraid to put his money where his mouth is. He once spent his own resources to prevent a rogue patent-holder from charging underground utility contractors for using HDD for installation. He proved that Melfred Borzall had actually developed this method first and had demonstrated the process to contractors long before this (fraudulent) patent was ever issued. In doing so, he ensured that the playing field stayed open and level for future drillers—and saved the industry millions of dollars.
A hands-on boss
Dick leads by example. He works side-by-side with employees, distributors and contractors to get a firsthand sense of their HDD tools and process needs. Longtime Melfred Borzall Accounting Manager Sandi Matthews recalls, "We once had a two-foot-tall stack of pending customer invoices from our plant move that needed to be mailed out immediately. Dick sat down with me to help stuff envelopes. He was the first boss and owner of a company who actually felt it was important to go where you were needed to help out, no matter what your title was." Dick will never ask someone to do a job that he hasn't already done himself. He proves that we can all work together to make Melfred Borzall a better company.
A staff that feels like family
Dick has high morals and ethics, and a strong belief in the importance of family. He extends this familial attitude to everyone at our plant. He walks the floor frequently and knows all employees by name. Always caring and compassionate toward co-workers, Dick personally helps employees and offers advice during difficult times. Dick also brings a sense of fun and joy to the workplace, joking with employees and never taking himself too seriously. At the annual company picnic, he's the first to register for games like the 3-legged race, wet sponge toss and the always-anticipated balsawood airplane building and flying competition. (He hasn't yet prevailed over our talented team of engineers, but he hasn't stopped trying!)
Change is in the air
Dick was the driving force behind our company's environmental enhancements, including our green photo-voltaic system. He likes to brag about what we have done and show off our green technology during tours. He doesn't do it to impress people, but to help encourage others to do the same. From our solar-paneled parking lot to our electric company vehicles and charging stations to our rigorous recycling program for manufacturing materials, Dick's changes show how "industrial manufacturer" and "environmental stewardship" can go hand-in-hand.
Dick advanced Melfred Borzall to achieve our modern-day success, evolving the company from inventors of the first commercially-built HDD rig to our current reputation as HDD tool experts. National Sales Manager Jose Mierzejewski sums it up by saying, "What I most admire about Dick is his passion for the company he has built. When you listen to him speak about the company's history, you know it's heartfelt." Whether you call him "Dick" or "Dad" or "Granddad," his vision, dedication and follow-through has created a company that we're all proud to be a part of. From everyone here at Melfred Borzall: Happy Birthday to you!