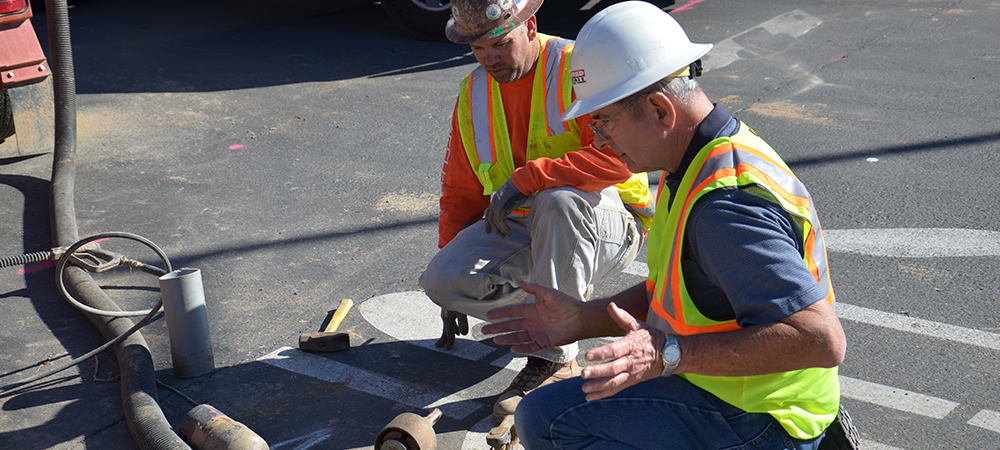 Original article, "Melfred Borzall Marks 75 Years", published by Trenchless Technology Magazine in the August 2021 issue. Written by Sharon Beuno, Managing Editor.
As the horizontal directional drilling (HDD) industry marks its golden anniversary in 2021, one of its early pioneering companies is celebrating its diamond anniversary.
Melfred Borzall turns 75 this year — an outstanding feat for any company, but for a family-owned and operated one, it's even more of a success story. Today, the company is led by its third generation of Melsheimers, with some added consultation from a semi-retired second-generation HDD pioneer.
Fred Melsheimer founded the company in 1946, a venture to start his own business to make tools for the installation of utilities without the use of trenchers and shovels — a precursor to today's HDD. His son, Richard "Dick" Melsheimer joined him, pushing the industry forward and becoming an HDD industry icon. Dick Melsheimer "retired" in 2016, handing the reins over to his sons, Eric and Peter Melsheimer, who serve as the president and vice president, respectively. He may be retired but that hasn't kept from keeping a beat on the industry, offering his sons his advice, perspective and expertise, when needed.
"Why would I retire? I'm having too much fun!" says Dick Melsheimer, who at 83 still routinely comes to the office. "I've got the best job in the country. I'm pretty much retired but am in the office four days a week and work when I want to work."
The specialized HDD tooling manufacturer has remained a fixture in Santa Maria, California, just northwest of Santa Barbara. Since focusing its efforts on the HDD specialized tooling market, the company has grown into an industry leader and expanded its repertoire of tooling for the HDD driller.
"The biggest thing that's changed [over the years] is people's perception of the need for specialized tooling," says Eric Melsheimer. "Early on, you had a fluted reamer or a spiral reamer and that was all that people thought about. Things are more competitive [today] and people recognize that you have to do all you can to be productive. Specialized tools for job conditions and matching those needs to the rig is pretty well understood by everyone today and that is an important component."
Getting Started
He developed a method for horizontally drilling a hole using a pneumatic motor to install gas mains; it was one of the first machines to use drilling techniques with little ground disruption for the purpose of installing utilities — a practice that later became known as directional drilling in 1971. Dick Melsheimer started his own company in the early 1980s, called Borzall Equipment, separating from his father. When Fred Melsheimer passed away in the mid-1980s, the two companies merged to form today's Melfred Borzall.
Two generations after Fred started the company, the Melsheimers are still immersed in HDD. Since the 1990s, the specialized tooling maker has established itself as a niche manufacturer of drill rods, directional heads, backreamers, bits, blades and a whole assortment of tooling accessories for drillers. The grandsons of Fred Melsheimer each bring their own unique abilities to grow and expand the business; each started at ground level, as their father did, getting to know the ins and outs of how the business and HDD industry operated.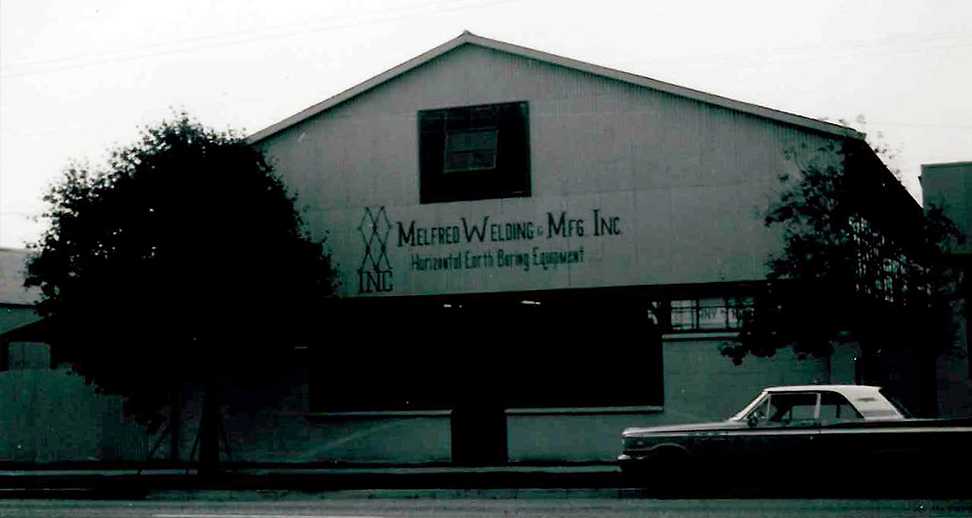 Peter Melsheimer used his marketing expertise to broaden the reach of the California company early on with its popular Directional Depot, a product catalog that found its way to drillers' desks several times a year — a precursor to shopping on the worldwide web. Today, Melfred Borzall sells direct to the customers from its own sales staff, distributors and website (aptly named FRED).
At one time, Melfred Borzall manufactured and sold small directional drill rigs. That was during the early years of the HDD market. while the rig was moderately successful, what the Melsheimers were most successful at was educating utilities and contractors to how HDD worked and the opportunities it would bring. "We went back to our bread and butter and what we do best, which was the tools," says Peter Melsheimer. "By that time, there were bigger [rig manufacturers] making equipment and there was a market to put our tools on their equipment."
Keys to Success
One of the keys to the company's longevity and success is that Dick, Eric and Peter have all worked on the shop floor during their early days with the company. That may not sound like much but it gave them the insight into the company from the worker's perspective vs just the owners.
"We all worked on the shop floor at one time or another, assembling parts right next to everyone else. [That experience] gives you a better appreciation for what they have to do and makes you aware of the working conditions and how employees are treated," says Peter Melsheimer.
Dick Melsheimer relished the time he spent working side by side with the company's employees and says it gave him a needed perspective on how to operate a business. "I came into the business as an engineer," he reflects. "I learned how to work with the machinists and welders, etc. I learned so much on how to treat employees. I always had the philosophy that I wanted to have people who wanted to go to work instead of people who have to go to work. I wanted to make it exciting and not boring."

All three describe Melfred Borzall as an ethical company that treats their employees and customers with respect. "You're not going to last 75 years if you're not," notes Peter Melsheimer.
"We have focused on HDD and on ways to make it a better process and making the contractors more efficient," he continues. "That focus has helped us."
As a way to give back to its employees and distributors, the company also created a foundation in which it provides scholarships to their kids. Melfred Borzall awards ten $2,000 scholarships annually.
Celebration & Company Growth
Throughout this year, Melfred Borzall has marked the anniversary through product promotions and will do a more formal celebration when it holds its annual distributors' event in October. The company also plans to do something at the 2021 Utility Expo to showcase the occasion.
The company has grown tremendously over the years and has always catered to the small to midsize rig market, with the recognized brand names such as the Eagle Claw bit and Tornado and Ogre reamers and its line of drill heads. After 2008, Melfred Borzall expanded its product line to include bigger tools as the large rig and pipeline markets really took off. "With the fiber boom returning, we have focused our [tooling designs] on that, producing tools with super high production but made for small holes in tight spaces," says Eric Melsheimer.
Going forward, the Melsheimers are eying and planning on more growth, nationally and internationally. "We've expanded into another building to accommodate more manufacturing and inventory and we're looking into other markets that we can get into and apply our knowledge with cutting tools," Peter Melsheimer says.
"Expanding our global distribution is a big goal of ours," adds Eric Melsheimer.
Where does the fourth generation fit in to the company's future plans? Time will tell. "The fourth generation is working here as interns during the summers. We're trying to win them over but they want to try other things first," Peter Melsheimer says, laughing. "They don't realize what a great industry this is yet."
Looking back on what the company has accomplished, Dick Melsheimer's thoughts are about his dad. "I'm grateful to be alive to see this [milestone]. I wish my dad was still alive to see what he started has turned into."