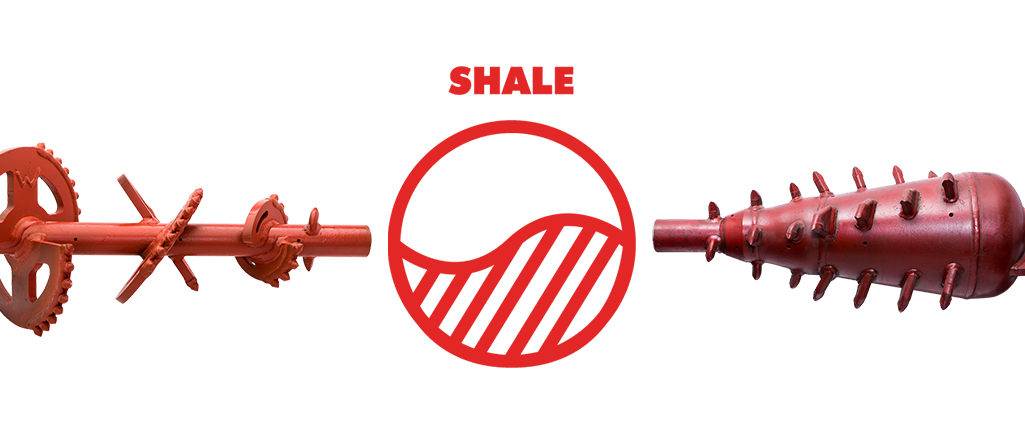 When it comes to sedimentary rock, we all know shale very well. It's not hard to find since it accounts for nearly 70% of the rock in the Earth's crust. Shale is made of silt, clay and minerals like quartz, calcite, pyrite and mica. It's usually found in areas where water is or was present. Shale forms through a process known as "compaction." Compaction occurs when sediments that are deeply buried are placed under a great amount of pressure from the heavy layers above them. The pressure ends up squashing the grains together even tighter. Compaction frequently occurs in slow-flowing or still bodies of water like river deltas, ocean floors, swamps and lakes. In water, heavier particles sink, while the particles commonly found in shale will remain suspended. Over time, these particles will settle on each other and form into rock.  
Why Is Shale Important?
For centuries, shale has proven to be very useful. It is used to make brick, tile, pottery and other ceramics. It is also used to make cement. And certain kinds of shale contain oil or even natural gas which is where horizontal drilling comes into play. Even though shale is softer than other types of rocks, it's not always a cakewalk to drill or back ream through it. That's why it's so important to determine the best back reaming options for the job beforehand so you won't waste time, money and even your patience.  
The Best Back Reaming Options For Shale
When it comes to back reaming through shale, you'll need a reamer that can take on the clay that often develops during drilling. We offer five drill reamers that are tough enough to take on any shale that comes their way. Here are more details about each of them.  
The Hedgehog Reamer
Hedgehogs are known for being cute and harmless. That's not the case with our Hedgehog Reamer. This pointy reamer was designed to burrow into a variety of soil types. This HDD reamer features tapered blades with carbide cutting teeth. These carbide cutting teeth were designed to provide a more aggressive cutting action. And the Hedgehog's bi-directional, conical carbide cutter blocks make it possible for you to use this reamer as a "pull" or "push" reamer. This Reamer is great for soils and shale, and it can help maximize the performance of Ditch Witch® or Vermeer® drills.  
The Sabertooth Combination Drill Reamer
Our Sabertooth Combination Drill Reamer will tear through shale like a tiger for sure. With tall shark teeth in a spiral pattern and a tapered packing section, the Sabertooth combination drill reamer was designed to take on sticky, sandy or rocky ground conditions on a single bore. This drill reamer combination tool is durable, easy to use and ideal for shale, cobbles, river rock, glacial till and hardpan. It also can take on the toughest combination soils. The Sabertooth's large shark teeth carbide cutters combined with their spiral pattern placement facilitate outstanding mixing and pumping. And its backup blades make for easier pushbacks.  
The Shredder Reamer
The Shredder  is also one of the best back reaming options for shale. It offers power, reliability and enough carbide teeth to chew through very challenging ground conditions. This reamer was not only built to be tough, but it was also designed to be economical so you can get the job done effectively and efficiently. Just like The Hedgehog, The Shredder has gradually tapered blades to lessen torque and backup cutters that facilitate much simpler pushbacks. This reamer also channels drilling fluid out through the blades and the shaft.  
The Tornado Reamer
Our Tornado Reamer is an original design that we're really proud of. Just like its namesake, this reamer can destroy anything in its way. The Tornado offers aggressive cutting and mixing to minimize the power needed to pull it back. This means faster pullbacks and that smaller rigs can pull back larger diameter Tornados. And with gusseted blades for extra strength, the Tornado Reamer will whirl through and destroy shale in no time.  
The Tornado Jr. Reamer
While this reamer is like a mini version of the original, it still packs a mighty punch. With the Tornado Jr. Reamer, you can perform direct pullback of pipes up to four inches in diameter for shorter bores in ground conditions that are more ideal. The Tornado Jr. is part of our FastBack® System. This system makes it faster and easier to ream up to 12" diameter holes without having to remove the drill head. The Tornado Jr. is a bolt-on reamer with conical carbide cutters on an angled blade to provide cutting and mixing action. While it was designed to work with our Excaliburs blades, it's possible to bolt it on to most of our blades to create 8"- to 10" diameter holes.  
Find The Right HDD Equipment For Your Ream Team At Melfred Borzall
Melfred Borzall has reamers for every purpose and ground condition. Our selection includes fluted reamers, barrel stabilizer reamers, turbo drilling reamers and more. If you're not sure what you need to get the job done right, we can help. Contact us today, and we'll connect you with the reamer that meets your needs.